Location:HKD-10C USB Interface Digital Electrocardio Sensor
HKD-10C USB Interface Digital Electrocardio Sensor
HKD-10C USB Interface Digital Electrocardio Sensor is a module which acquiring the single lead electrocardio, output binary digital signal through the USB interface.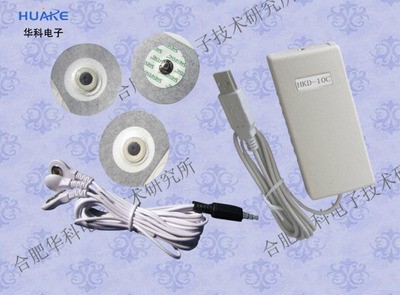 Specifications
Power supply: USB
Drive current: < 10mA
Range: 0 – 4mV
Input impedance: 1000000M
Common Mode Rejection Ratio: 65dB
Sampling frequency: 200Hz
Sampling accuracy: 10bit
Baud:57600
How to use Electrocardio Sensor
1. When measuring the position of the three electrodes is determined according to the guidance of doctors. The general location of the reference electrode is the right foot at the ankle or mid-side lumbar total, two measuring electrodes placed on the position to be measured.
2. The power of electrocardio requires the use of a battery or isolated power supply. When using isolated power supply, TXD, RXD data lines also use the opto isolated.
3. System must be well grounded.